A little after 2pm Asprihanal crossed the 2,700 mile split, later in the day at around 9.30pm Galya followed in his footsteps who is currently in the second place. Pranjal will cross the 2,700 mile mark tomorrow morning.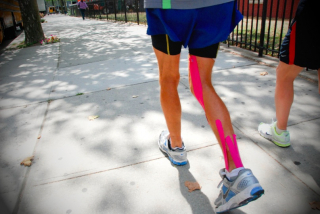 Yesterday Dharbasana was running practically all the time. The ointment and a special kinesiological tape did help in the long run. Each year we learn something new which helps us go forward. The tape was bright pink and from afar his leg looked covered with paint. Unfortunately, his hopes for a quick recovery were dashed. The remission turned out to be of temporary nature.

From morning till 5.30pm we had another runner on the course. On his birthday Arpan has a tradition to run as many miles as his age. Today he ran 58 miles(93,3 km). He chose the 3,100 mile course for a reason. In 2004, he did the 3,1000 mile race here.
By the end of this humid but not really hot day, we had a thunderstorm with lots of rain. Most of the runners put on special rain-proof gear and went on running. However, some of them preferred to stay dry and waited for the storm to pass. Thunderstorms in New York area don't last long. After 20 minutes it was drizzling.