Out of all the runners I was the last one to arrive to New York. On my way to Frankfurt where I had a connecting flight, one of the engines broke and the pilot made a decision to turn around back to Kiev. Everything went well, I am starting the race :)
This morning we had the traditional 2 mile race, which most of the 3100 mile race runners completed. My time was 13:17 and I am happy with it. Llater on during the day all the runners and helpers (cooks, people who build up and take down the camp every day, media etc) were called in for a meeting with the race directors.  We have some changes in the crew – Pushkar and Galya both got injured while training and this year they are not running. But we've got 3 new people – Igor Mudryck, Vinnitsa, Ukraine; Sarvagata Ukrainskyi, Berdansk, Ukraine; and Pradeep Hoogakker Den Haag, Netherlands. All together we are 10 runners from 7 countries.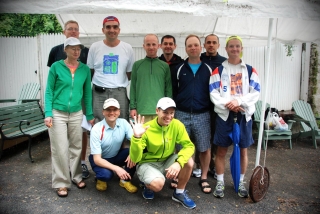 9 hours until the start.
Good luck!