After 2 days of running Harita Davies has more than proven she belongs with this extraordinary group of distance runners attempting to complete 3100 miles.  Among the women athletes she ran the most laps on day 2 and is currently tied with Kaneenika and Nidhruvi for 2nd place (4th overall).  She starts her 3rd day here looking great and showing no obvious wear and tear from just running 128.9 miles.
"Ever since I started meditating I started running.  So since I began my spiritual life, it was always really a part of it.  I was very fortunate to have it instilled in me by Subarata who was a great runner and one of the center leaders of the Sri Chinmoy group in New Zealand.  She had done many ultra races she really really encouraged us and showed how meditation and running go really well together."
"I grew up playing sports, my parents are really into sports so for me it was something that I was brought up with and I know that it saved my life in so many ways.  As a teenager when ever I had a hard time and went into sports it made me feel that everything was going to be okay."
"So my running is like that in so many ways.  Whenever times are difficult or challenging I can just go out for a run.  You feel like everything is taken away.  You feel clear and you feel light.  It helps you to stay much more positive."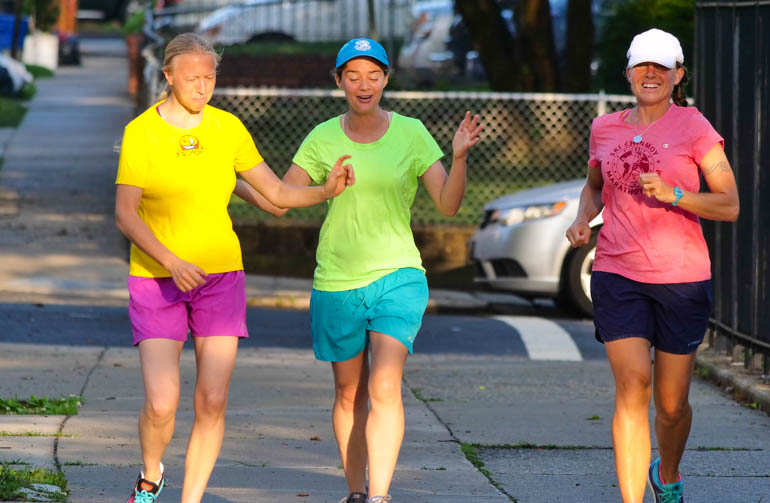 "A lot of people say that I seem like such a happy person and that I am really lucky for that but I would say that is something that I have worked at very hard.  Running is a big part of what helps me to be able to do that."
"Ever since I first saw the 3100 mile race I just had the feeling that it was inevitable that one day I would do it. But I had no idea when and I always thought maybe in 10 years time.   But last year I realized, I am 42, and 10 years more?