There has to be something fundamentally optimistic built into Yolanda's DNA.  Or it may just be that she has an amazing sense of determination or it just comes down to good old fashioned heart power.
2 days ago she, like several other runners were having some pretty serious stomach and digestive problems.  She was only able to make 21 miles which is just about as close to catastrophe as an entrant can get.  Particularly with how much time is left in the race.  She lost 37 miles, flat out, plain and simple.
Yesterday her health rebounded so strongly that she made 68 miles 124 laps and would have been the most mileage of the day except for an extraordinary performance by Ananda-Lahari who did 80 miles 147 laps.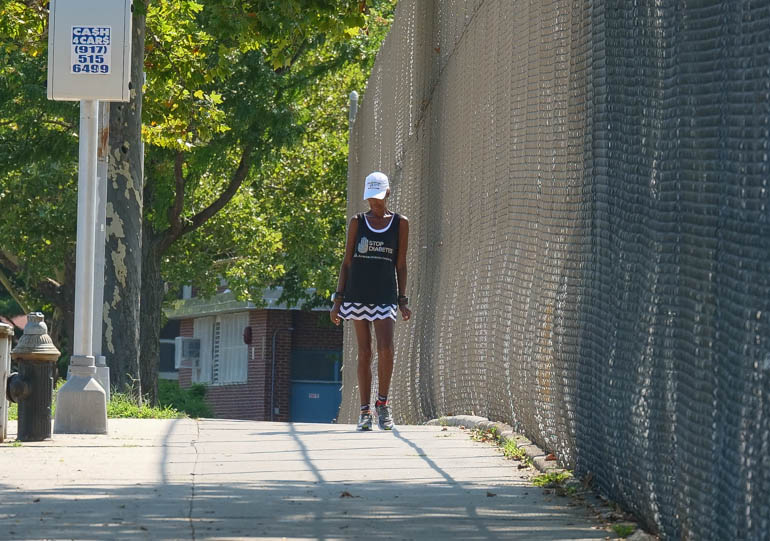 When asked if she has been having good and bad adventures she says, "I have been having more good than bad.  I only had one bad one 2 days ago.  Actually it wasn't really bad.  The bad part was that I got sick. The good part of being sick was that I got 13 hours of sleep."
"This race will test everything.  Your mind, your body, your soul.  It is just amazing.  It is just an adventure now.  I have made it to day 31 and I am excited about it."
"Yesterday was my best day.  I pulled off 68 miles.  Today I am moving a little slow because I have 2 blisters on my left foot.  My right foot is perfect.  One on my left heel got a little infected.  So we worked on it this morning.  So it is a little painful and I waiting for the Tylenol to kick in and once it does I will be able to pull off some miles.  It is a beautiful day."