33d day. It is 1.30 pm. A few laps before I have done 2000 miles.
32days+7hours.
It seems like 5 hours faster then first thousand this year. I found that I was 17miles ahead of my last year schedule. It means that everything is going well. Volodya and I are running together now. In the morning he caught up with me and since then half of this day we've been running together. This morning was, let me say, sleepy, like somebody "pressed us down". We were joking that we had a sleepy time while running. Volodya even had to drink some coffee and I remembered about an herbal pill that Pranab had given me a year ago right for cases like that. Anyway, we got some boost. Then we burst out laughing at a joke about woodpecker, and everything was back in its place. Our speed now is pretty much ok.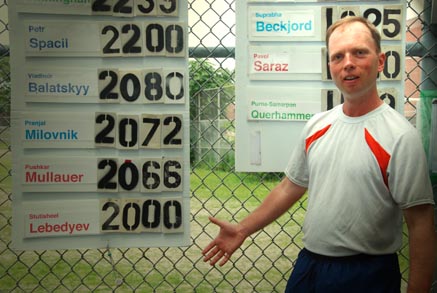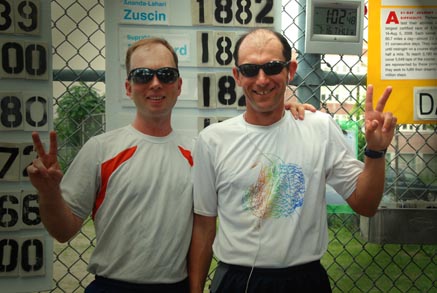 As it turned out, we were 1 lap slower, then yesterday, when I had 66 miles, Volodya had his traditional 67 miles. It means that everything is fine, the flight is normal. One more thing is worth mentioning. Volodya did his first 2000 miles yesterday, and not too much is still left. Volodya is smiling now.
Anecdote of the day: Shtirlits was walking along the forest. Somebody was pecking the wood. "Woodpecker", thought Shtirlits. "You yourself are a woodpecker", thought Borman.